Myth #1: Offshoring means Americans are losing jobs.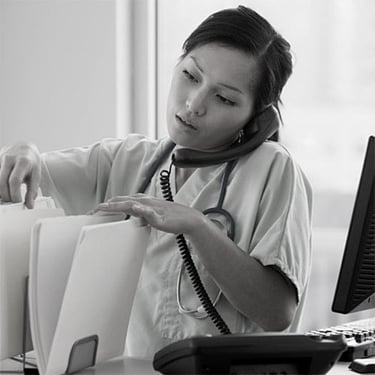 When someone refers to offshoring, especially in the world of healthcare, it's often a set of job responsibilities, not entire positions that are affected. In many cases, no one is let go but rather certain tasks of an exhausted staff are dispersed to specialists overseas allowing organizations to focus on their expertise and ultimately, better patient care. When employees are spread thin, costly mistakes happen resulting in increased denials. When denials are left unmanaged, they're often the primary reason physicians have to close their practices in which everyone loses their job.
In addition, parent companies can recycle the savings from offshoring back into their local operations by investing in upgraded medical equipment, new technologies and increased salaries and benefits of their local employees, boosting morale and productivity. For many organizations outsourcing some jobs and responsibilities may be the only way to preserve their business.


Myth #2: Language and cultural barriers impact the patient experience.
Businesses on the fence about offshoring their healthcare processes might worry that while revenue goes up, communication efficiency will go down. Here's the truth, businesses don't have to compromise when seeking international help. It's important to note that both India and especially the Philippines have a mix of local and western influences. The millennial generation has grown up watching western media and have a lot of similarities with American culture. The Philippines are also known for having an english-proficient workforce with neutral accents.
No matter your degree of concern, make sure to discuss the following questions with the offshore firms you are interviewing.
What is your hiring process and qualifications for voice related positions?

Where are your offices located and what functions are performed at each location?

What training programs and ongoing education do you have in place?

Do you have a U.S. based operations staff to manage the relationship?




Myth #3: Service quality diminishes.
Reducing labor costs doesn't mean you have to sacrifice on service, in fact, it's quite the opposite. When an organization offshores, they're opening themselves up to larger pools of talent that may not be available to them in their local area. Having a selection of recruits with varying degrees of expertise allows organization to enhance their level of service. This
coupled with the time and cost savings of not having to interview and train employees is another huge advantage.
In addition, many firms are able to offer 24 hour staffing. Having around the clock service allows for optimal productivity and turnaround times.
As always, you need to have open and direct conversations with the firms you're interviewing regarding the level of qualifications you expect your offshore staff to have. Do you require certain certifications or experience? If so, make sure that's a part of your contract agreement.
Myth #4: It's too challenging to manage a global team.
Managing a team from thousands of miles away seems like an impossibly daunting task. This is where picking an experienced offshore partner is crucial. Selecting an offshore firm that has the appropriate infrastructure in place to orchestrate every step of the onboarding process, day-to-day management and reporting is key. With the right infrastructure, distance and time zones won't make a difference. It also helps if your firm has an onshore operations staff member(s) representing your account who can meet regularly face-to-face or as needed. Simply ask for a staffing plan and team profile from the firms you're vetting.

Myth #5: Security and compliance can
be an issue.
If you're partnered with a sound offshore firm, the integrity of your data will be their top priority. Security and compliance are not an issue if you are diligent about verifying the following:
Are they HIPAA compliant?

Do they hold certifications from reputable auditors? (We recommend only doing business with firms who are SOC 2 certified.)

What are the physical security measures of their office(s)? (ex: door code, key cards, gated perimeter, etc.)

What are their software security measures? (ex: antivirus software, data loss prevention software, user monitoring software, etc.)

Do they have a dedicated IT department?
---
Offshoring has its pros and cons like any business strategy. Through research, strategizing and asking the right questions, your business will be happy to find that most concerns are simply myths.
Global Healthcare Resource is a leading international enterprise with over 20 years' experience aligning the healthcare industry with cutting edge, cost-effective solutions.