Your company has been researching business strategies to help save money, improve efficiencies and enhance the patient experience. After tremendous thought and consideration, your organization is ready to transition certain responsibilities offshore.

Now what?
Bottom line, do the research. To ensure the experience is a home run, your operations staff needs to thoroughly vet candidates until they're confident the chosen offshore partner is a seamless extension of your organization. Are they easy to work with? Transparent? Do their values and work ethic align with your company?
While you interview candidates, your questions should be in-depth and unique to the individual needs of your business. With that being said, below are a few questions we recommend you always ask:
Schedule a meeting with Global directly to your calendar.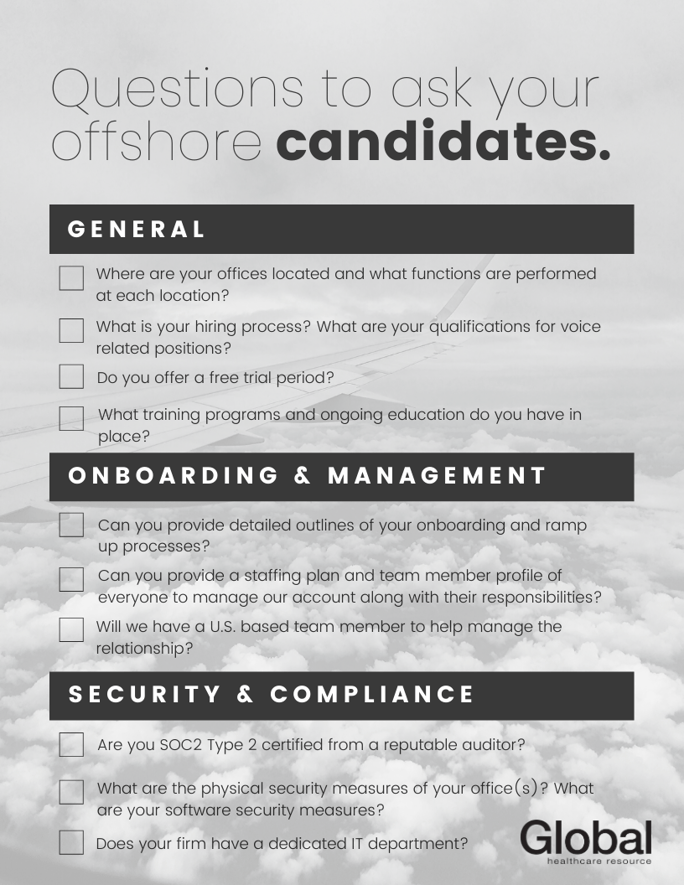 To sum it up, do your homework. Every offshore partner is different and you owe it to your company to thoroughly vet each candidate. Ask general questions regarding office locations and functions performed at each. Do they offer a free trial period before you commit? Next, know everything you can about their onboarding process and the team that will manage your account. Lastly (and most importantly), get all the documents and certifications outlining their security and compliance measures so you never have to worry about the integrity of your data.
---
Global Healthcare Resource is a leading international enterprise with over 20 years' experience aligning the healthcare industry with cutting edge, cost-effective solutions.