In 1999, the HIPAA Privacy Rule had just been proposed, the internet was barely mainstream and ICD-10 CM was light years from going into effect. As Global Healthcare Resource celebrates its 20th anniversary, let's take a look back with President and Founder, Vishal Jain as he discusses the company's beginnings, how the industry has changed and what he sees in Global's future.
Schedule a meeting with Global directly to your calendar.
Vishal, what made you enter the Healthcare finance industry?
I saw a need and an opportunity. Through many conversations with industry peers, I found a surprising amount of billing companies were struggling either financially or with managing their growing business. Profit margins were closing in and they needed a cost-effective solution. I wanted to provide American businesses with a trusted way to redistribute revenue cycle processes so they could focus on long-term growth which often gets overlooked when your focus is on the day-to-day. It was challenging at first, as all business ventures are. We started with a handful of staff in Chennai and have grown to over 3,300 employees and six locations- four in India, one in Manila and our headquarters in Atlanta, Georgia.
What is the biggest change you've seen in the industry over the last 20 years.
The biggest change is how much technology has evolved. In the 90's, many documents were still handwritten and now everything is paperless and filed in the cloud. Patients can have appointments over FaceTime and robots are performing heart surgery. It's quite incredible but requires a lot of adaptability. These advancements affect every facet of the revenue cycle and if you want to succeed, you need to embrace and prepare for such changes or you won't survive in this industry. With that being said, I don't think technology will ever fully replace the hard work and oversight of people. I like to think we've been very flexible and our employees work harmoniously with tech.
What do you think has been the key to Global's longevity?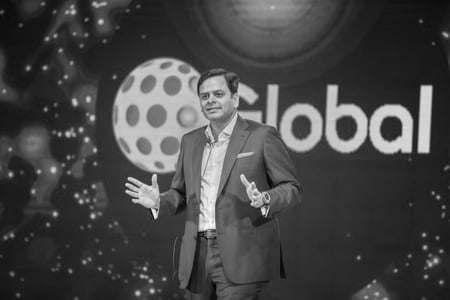 Like I mentioned before, being excited rather than resistant of new technologies has been critical. We also have the capability to develop our own software in-house. If we encounter any road blocks or notice areas that could run smoother for our clients, our IT department can build or tweak internal programs easily. Our clients really appreciate that.
However, the most important driver of our success is our employees. I can confidently say that we're celebrating our 20th anniversary because we have the best people working for Global. You can't run a business on your own, you have to have the right people in place. It's always a top objective of mine that Global's staff is happy and proud of where they work. The direct relationship between a work culture where employees feel seen, heard and given the educational tools for growth, will translate to an outstanding experience for our clients.
In the next 5-10 years, what do you hope to accomplish?
I would love to see Global's staff and client base double. We have been consistently growing by approximately 25 percent annually so I think it's achievable. As we grow in size, I want Global to become more immersed in AI to utilize our insight for creating more streamlined processes and help us stay ahead of payer policies which are constantly changing.
---
Global Healthcare Resource is a leading international enterprise with over 20 years' experience aligning the healthcare industry with cutting edge, cost-effective solutions.